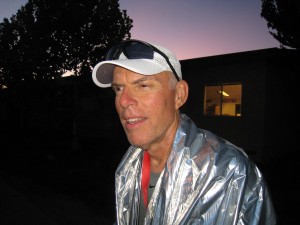 I've finished the Full Vineman triathlon, the second of my three events for this year and my first full Ironman-distance triathlon. Nearly 550 participants completed the race, which is billed as the oldest Ironman-distance race in the continental United States.
Surprisingly, it turned out as expected: I'd projected a 14-hour race, and I did it in 13:54. I wasn't too concerned about doing the distance. My training had gone well, I was injury-free before the race, and I felt no soreness after it. My greatest concern was nutrition and hydration, which did take its toll by mile 10 of the run. More on that later, but it did make the run—typically my strongest event—very tough. But before getting into the details, I'd like to thank my wife Julie for all her support during the training and for cheering me on at these races. It means a lot to me to have her there! And to my friend Doug Bloyd, who trained and raced with me. What a great guy! And finally to my brother Chris and my sister Maria, also endurance athletes who have encouraged me over the years.
So here's how the day went…
I was expecting it to be hot. Two weeks earlier, Julie and I had driven the bike route. That day, the temperature in Geyserville was 103-degrees. But the heat wave passed and the morning of the race there was heavy fog. By mid-morning the fog cleared and the temperature rose to the mid-80s in the afternoon. Excellent conditions for the race!
We stayed at the Dawn Ranch Lodge in Guerneville, which is 1/4 mile from the start of the race. That was perfect. I could take my time waking up, having a good breakfast (my homemade granola & skim milk, banana and peanut butter, more skim milk), and finalizing my race preparation. I checked everything I'd packed the night before. I'm always amazed how much stuff there is. Organizing it is critical to fast transitions during the race. I like using plastic shopping bags to group things. Someday I'll upgrade to something more chic.
At 6 AM, I headed off to Johnson Beach, where the swim begins and ends. My swim started at 6:40 AM, so that was cutting it a bit close. There were about 75 others in my swim wave. With that many people, and the Russian river being fairly narrow, there was often someone in front of me. This may be why I finished the swim nearly 15 minutes ahead of my estimate: drafting was unavoidable. The exit out of the water had another surprise: it was the first time I've encountered volunteers to help with the wetsuit. They were fantastic: I didn't have to remove my watch or timing chip. They just pulled the wetsuit right off. Unfortunately, I always seem to relax in transition. I either stand staring at my bike like it's supposed to do something or spend time talking with the person next to me. So my transition time, as usual, was very slow. I really need to speed things up.
It was nice to have driven the bike route two weeks earlier. It allowed me to visualize the route during my last two weeks of training. I could anticipate where to conserve energy before the hills and where to expect sharp turns and traffic intersections. I was concerned about going off course because we'd made wrong turns while driving the route. But as it turned out the course was well marked by volunteers and aid stations.
It's a beautiful ride. The road isn't closed, but traffic is light and the police, as always at these events, are terrific. Early on there was a serious bike accident. We were required to walk our bikes past the ambulances. I heard later that the riders were OK. Because the road was rough in some sections, I did lose a water bottle a couple of times and both my CO2 cartridges were shaken loose. I did have one close call on a fast descent. Near the bottom was a sharp turn. Just as I started my turn, I hit a serious bump which rattled my vision. Things happen quickly when you're going fast. To keep control, I stopped turning. Assuming I didn't encounter oncoming traffic as I crossed the road, I would surely hit the fence in front of me. So I hit the brakes but a bit too hard. I skidded, but fortunately didn't go down. The adrenaline rush was good for several miles of good racing.
I did have a bike problem, which has been recurring. The large gear shifter again stopped working. This had happened to me during the Livestrong Challenge century ride, and I'd had to go searching for a bike shop before resuming the ride. But this time it was my good fortune that the next aid station had a volunteer who knew bikes. She made an adjustment that fixed it. I was glad to arrive at T2 for transition to the run. I heard someone say thank you to her bike. I'll remember to do that next time. I can push my body, but if my bike fails that's the end of the race for me.
Once again, I took my time in transition before starting the run. The run consisted of three loops, which I liked because there were more aid stations than I'd expected. The first mile gets you out of the suburbs, and after that it's a nice country road. Let me clarify: it's a nice run for the first loop. By loops two and three it's a nice run/walk where the only people to see me throwing up were other runners. And they're a sympathetic group. I got sick twice. Every time I started running the sickness returned and I couldn't keep anything down – water, fruit, nothing appealed to me. I'd projected 5 hours and that's what I did. Disappointing, because the run is my strongest event. It wasn't my legs; it was the nutrition/hydration that defeated me. I've never been sick before, but I'd become seriously dehydrated during my first Boston Marathon. My experience is that there's not much that can be done to recover during the race. But I did finish.
It took a couple of hours to recover. I got a 10 minute massage at the aid tent, which helped immensely. On the drive back to the hotel, my brother Chris called and told me I'd finished 4th in my division. (Thank you, Chris!) My fatigue changed to elation. Three minutes faster and I'd have been second in my division. Not unreasonable, considering I'd spent over 20 minutes in T1 and T2, where all I should be doing is changing clothes. Back at the hotel, I ate bread and turkey and drank skim milk. Oh yeah, I took that long overdue shower. Already I was feeling much better.
The week following a race is always to be savored. It's a break from training. There's the feeling of accomplishment and congratulations from family and friends. And I can catch up on my sleep.
My next event is the long course at Tinley Adventures on October 3. It will be roughly a 1/2 Ironman distance: 1.5 mile swim, 48.8 mile bike, 9 mile run. With luck it won't rain like last year, which made the road slippery in places and makes the singlet feel like sandpaper during the run. I like doing this race, because it's near the folk's house. Also, both times I've done it, I've placed second in my age group. Don't worry, it hasn't gone to my head: both times there was only one other person in my age group.
For next year, I've registered for the Napa Valley Marathon in early March and the Coeur d'Alene Ironman triathlon in late June. The Napa Valley Marathon holds good memories for me, not only for the great restaurants in the area but also because it's where I set my PR for the marathon in March of 2004. Also, it will be a good base for starting my Ironman training. Already I'm making plans for 2011 when I enter a new age group. I guess that's one way to look forward to getting older.