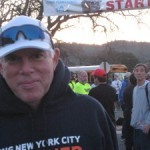 The Napa Valley Marathon is a good course for a fast run. It has a small field of runners and for the most part it is downhill. It's also a good time of year. This year's early March weather was cool and dry, excellent conditions for a marathon. My PR was at the Napa Valley Marathon in 2004. So this was an ideal race to serve as a base for the Ironman Coeur d'Alene and as a Boston Marathon 2011 qualifier.
It was a wet training season, due to el Niño weather conditions. The rain didn't affect my training, other than keeping me out of Rancho San Antonio, where I do all my hill work. Other than that, I stayed with the Hal Higdon Advanced 1 training program, which I always use. Training started in early December, so that during the Christmas Holiday I did my running while on vacation in San Luis Obispo, Sacramento, Eureka, and Healdsburg, CA. It was a nice way to explore those towns. At home in San Jose, it was always the Los Gatos Creek Trail.
Julie and I had an excellent place to stay for three nights in Calistoga. We were at the Cottage Grove Inn, where we had our own cottage just over 1/2 mile from the race start. I wasn't too anxious the night before the race so I got a good night sleep. I reminded myself that, unlike triathlons, tomorrow's event would be a relatively short day.
The morning of the race I had my usual breakfast of banana and peanut butter, home-made granola, and milk. Then I picked out my gear. This should be simple, but it never is. This time it was my shoes: I couldn't decide which of three pair to wear: the ones I'd trained in which were thrashed but comfortable, or two newer pair which were more stable but still needed some breaking in. I always pack way more than I need, because I don't want to go out with something I'm not comfortable in. I don't recall what shoes I picked, probably because it really didn't matter; any of them would have been fine.
I went out the door about 30 minutes before the start of the race. The logistics for running are much simpler than with triathlons. No swim or bike gear to carry; just a few packets of GU. It was only a 10 minute walk before I was up near the starting line. My race goal was to push as close as possible to my previous Napa Valley Marathon pace. Overall, I felt good.
At 7 am, with the sun just starting to rise and the fog against the hills, the race started. The course follows the base of the hills on the east side of Napa Valley. It reminds me of the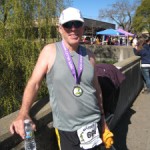 roads I train on in San Luis Obispo, which are pretty country roads with easy hills. Unlike my training runs, for the first 13 miles there was no traffic whizzing by. Of course no traffic also means that there aren't many places for spectators to gather to cheer you on. Fortunately there were fans at mile 19, which is a long gradual uphill. I kept a slow pace for the first third, hoping to pick it up later. It didn't happen, but overall I'm satisfied with my time. I finished in 3:40:04, an 8:24 pace, and good for 5th of 79 in my age group M55-59. And I qualified for Boston!
When Jim is not training or participating in endurance events, he is the owner of Phoenix Technical Publications. Phoenix Tech Pubs has provided complete technical writing and documentation services in Palo Alto and the San Francisco Bay Area for over 25 years.