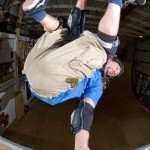 This takes a little bit of back story, so bear with me. During my adolescence  and early twenties, I spent most of my time in Palo Alto, CA, and was constantly skateboarding. Constantly. And as a result, (despite the occasional shin ding, knee scrape, or hip bruise), I was in the best physical shape a person can possibly be in . During this time I was also lucky enough to have met a cadre of some of the sport's legends. I became pretty good friends with one in particular: Jeff "ffej" Hedges. While Jeff never gained the huge stardom of other Golden Age skaters like Tony Hawk, Christian Hosoi, and Mark Gonzales, he was a luminary in his own right. In 1986, he won the Amateur Championship at the NSA Chicago Blowout. In 1988, at the Münster Monster Mastership competition Jeff won both the Vert and Street contests in the Amateur division. He became a professional skater sponsored by Santa Cruz skateboards in 1989, and released his own board model. He has been filmed in numerous skate videos, including the seminal "Streets on Fire", and for many he was nothing less than the "King of Inverts." His spirit and pure joy of the sport was absolutely infectious and, despite the fact that his skill level was far beyond mine, he remained humble and enthusiastic as I struggled to learn what came innately to him. In fact, it seemed as though he took as much pleasure in my progression and accomplishments on the board as I did. He seemed just as pleased to skate with his novice friends as with his professional peers, and because of this the skaters the Peninsula got pretty damned good at it on the whole.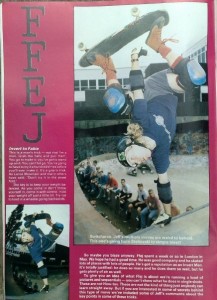 But this was all a very long time ago. I pretty much quit skating in the early 90's, am nearly 40 now, and as happens to most of us through our thirties, I've gained quite a few pounds in the past decade. Frankly, I'm fat. This is particularly vexing because, as I said, I never used to be. A few years ago I was trolling on Facebook (read: NOT EXERCISING!) and caught up with Jeff. He had stopped skating as well and had also packed on quite a few pounds. But, there was one difference. Jeff had decided that he was going to give it another go and hop back on the board. Not to skate competitively, not really to do any tricks, just to lose the gut. He admitted that his first foray back resulted in a broken wrist, but he felt that this was anomalous, and wanted to give it another go after he healed. He did. In a big way.
In the past year or so, I've noticed a lot more activity on Jeff's fb page; it is a now constant posting-barrage of some pretty serious skate photos. What had started as a simple attempt to lose his 45-year-old-man gut has become something else entirely. Jeff was kind enough to catch up with me today and shoot the poop for a few minutes. The upshot of the conversation is this: "ffej" is back. He has just returned from a contest/demo in Orlando in which he placed 7th. It was an "invite only" affair with some of the biggest names of the era in attendance– yes, Dear Reader, Tony Hawk was there– and he had a blast. He was recently at the Rumble in Ramona demo down in San Diego, he's gearing up to head over to Sweden in Feb. for "VertAttack 5," and has basically been on a rampage throughout Bay Area skate parks.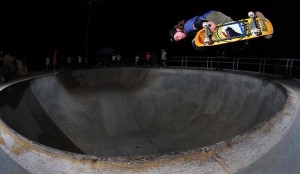 I asked him if he was on his way to gunning for sponsorship again. He said while he wouldn't turn it down, it wasn't priority one. Instead, he's just hoping to defray some of the cost of travel so that he can continue to attend these events. But funding or not, he reiterated that he's still going to keep skating for as long as his body will hold out. This interested me, I wondered how age has affected his skating. He told me that to be sure, he's a little sorer than he remembers getting, and perhaps it takes a little longer to get warm, but other than that not much else. I then asked him if there were any pluses to be an old man in a young man's sport. He was adamant that there were. First, he's lost around 40(!) pounds or so since hopping back on. Secondly, and more importantly, he told me that there is a higher appreciation for the sport itself. He doesn't care about media exposure anymore, and doesn't place performance based expectations on himself now. As he put it, there can be no ego blow now because ego just isn't involved. What this has led to is nothing short of a sort of skating equivalent to Nirvana. For Jeff, it's not about any fame or adulation, it's just about being able to hang out with friends and skate for the pure enjoyment of it. In other words: same old ffej! I then asked him where he hopes this all takes him. His answer? He wants to get past what he feels is the repetition of things he already knew, and get into the realm of the new. He wants, in his words, "that old dog, new tricks feeling." As for me, Jeff has once again goaded me back into skateboarding with little more than his positivity. I hope to join him in the "Less 40 Pounds" club soon. Thank you Jeff!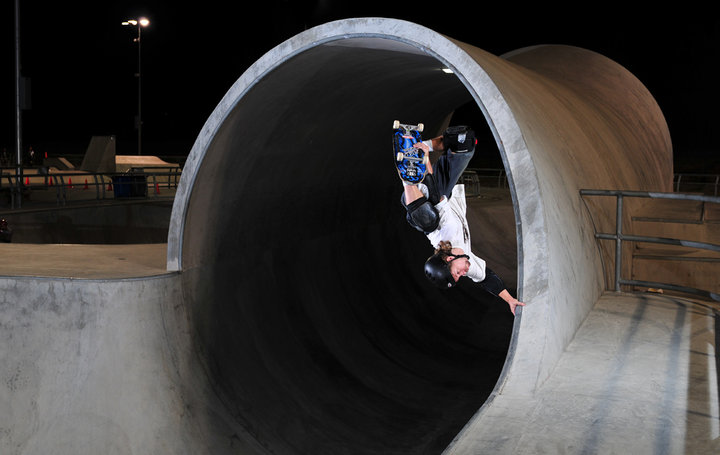 When Oden is not skateboarding, he is a Senior Technical Writer at Phoenix Technical Publications. Phoenix Tech Pubs has provided complete technical writing and documentation services in the San Francisco Bay Area for over 25 years.