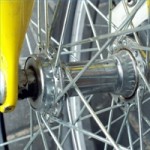 This isn't suppose to happen. Generally it can be avoided by packing a flat-tire repair kit.  But how do you prepare for the possibility of four or five spokes snapping?  That happened to me near the Coyote Creek Lagoon of the Bay Trail, some 6+ miles from the car. Not particularly far to walk unless you have to carry the bike all the way. The rear wheel twisted so badly that it couldn't turn in the frame.  Fortunately, my stock road bike is fairly light at 21 lbs: ideal for loading onto the peninsula commuter trains but a mountain bike would hold up better against the rough conditions on the trail and the surface-street portions of the loop.
The Bay Trail is a terrific resource for exercise and to explore Bay Area open space and cityscapes. I've been bike riding it with the intention of completing a circuit around the bay. The number of miles I cover on a trip depends on whether Caltrain, BART, or bus service allows for a one-way bike ride, whether the route is contiguous, and how early I start out. Based on the maps available from http://baytrail.abag.ca.gov/, the trail seems to have similar conditions throughout and the transit options are about the same.  I always carry my bike over difficult terrain like drainage channels, sloughs, gravel, dirt, and mud.  However, the spokes must have weakened over time by the gravel surfaces and rough terrain. One day they just  snapped while riding over broken concrete and tree roots.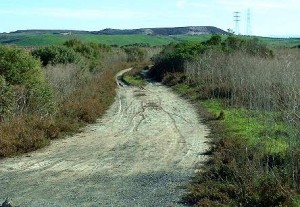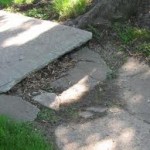 The sound was like a tree branch snapping. The wheel froze instantly. The bike came to a sudden and unplanned stop. When I looked down I expected to find twigs or branches lodged in the back wheel. Luckily I had slowed down before going over the broken concrete. If this happens again at high speed, the bike might be set free of its rider and it may be some time before I post my next blog.
So far I've ridden from Larkspur, down around the South Bay, and back up to the Oakland Coliseum BART (except for the gap between Milpitas and the Coyote Creek Lagoon where the trail disappears and the wheel exploded).  I have the San Raphael, Richmond, and Berkeley regions to complete. I am skipping the Novato and Vallejo area for now: too many not-yet-developed, potentially wheel-exploding sections. Since I'll be repeating the circuit, I'll post trail improvements as I find them.
When Grandy is not riding his bike, he is a senior technical writer at Phoenix Technical Publications. Phoenix Tech Pubs has provided complete technical writing and documentation services in Fremont and the San Francisco Bay Area for over 25 years.