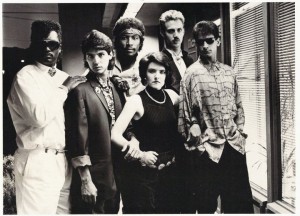 Do you ever wish you could play in a live band? Well I've been playing in bands since I was 12 years old.  Sometimes I've stepped away to pursue a "real life" but I can't keep away from music.
My first group at age 12 was with the Anderson brothers, Ahmad and Wilbur. We got together one summer and would play in the garage or at little backyard gatherings at their house. I would use their pre-Casio type keyboard that had built-in speakers that could not be heard if we played too loud. While in high school, my band called the Natural High (we thought that was SO funny), was the first band to play during lunch time on campus at John F. Kennedy High School in Richmond. We were also the first band not part of the music department to perform in the large quad area where most of the students convened during lunch. I was excited to be playing in my first big performance. We played the top pop and R&B hits of that time. I played a St. Thomas organ with a wah-wah pedal for effect. What a unique sound! The response from the show was exhilarating. There's nothing like teenage adulation from your peers. I was bitten by the performance bug.
I come from a musical family. My father plays piano and organ at church and his father played the trumpet. My mother sings in the choir and all her siblings sing and play piano. In my youth, I thought I'd be the next Michael Jackson because I could dance and sing. Or Prince, who could play multiple instruments and produced his own songs. "I can do that!" I thought. I rebelled against all parental advice about preparing for the future and dove right into music. I wanted to be a star.
You could say that I'm a self taught musician that plays by ear. I had some piano lessons very early in my life but didn't complete book one. I also tried the trumpet and clarinet in elementary school. I picked up the bass on my own.  I watched my older cousin, Steve on drums and when I sat on the "throne" behind his drum set, I discovered I was a natural drummer. I now enjoy playing the keyboard synthesizer in my various bands.
Playing  music is fun but the business side can be a nightmare. I tried to get a record deal after high school but, after experiencing some hard knocks and lessons, I eased back into a normal life: I went to San Jose State, got married, had a kid. But in my spare time I continued to play in cover bands and write my own music.
In my mid twenties I joined a band call X10-sive Research, made up of talented song writers and musicians. Michael Smith was the leader. He wrote most of the material. If any of you remember "Neck Breaker," that was Mike's. There's a cool video of "Neck Breaker" floating around out there somewhere. He was brilliant, which is why he probably published his music under Sheer-F-Genius.  Mike had designed and built his own electric drum set. The Simmons drum set was available but was very expensive.  He also was the first, that I know of at the time, to electrify his trombone. He would play with an effect that would make it sound like it was part electric guitar, part synthesizer, part trombone, and in octaves. A very unique sound, I tell you.
Of course I wrote songs also. One of my favorites is The Price U Pay (click here for an MP3 of the song). During our live shows, while performing The Price U Pay, Dave would stand up and play the drums while doing the same choreographed dance steps with the rest of the band. I wish I had a video of this.
X10-sive Research played around the Bay Area, developing our music and our fan base. We had the pleasure of opening for Animotion, known for their hit song "Obsession" (click here for the classic 80's video) , at the Keystone in Palo Alto. I had the opportunity to step from behind the keyboard and perform as the lead singer for some of the songs. Man, what a show!! It's incredibly satisfying to perform your own material especially when you get such a great reception. We received 2 encores and an ovation before handing over the stage to Animotion.  One of the band members from Animotion,  who snubbed us before our performance, said "We can't go on after that."
The band played at the Laundry Works in San Jose, including this gig in on December 26, 1986. We also performed at New George's (now George's) in San Rafael, where the Grateful Dead and Santana played, and One Step Beyond (now gone), a favorite venue for the Ramones. Another memorable show was at the still famous Catalyst Club in Santa Cruz. The one and only Bill Graham was there to see Bourgeois Tagg (best known for "I Don't Mind at All"). I will never forget that as we walked by Bill after our performance, he and I made eye contact and he gave me a subtle nod. BILL GAVE ME THE NOD, MAN! I remember telling the band that "I know we have something special." I kick myself for not approaching Bill at the time, though.
Pictured above is Jamie Brewer, Tom Valdez, yours truly, Susan Reynolds, Michael Smith, and David Rubin. Jamie, who still plays bass and has since worked with Howard Hewitt and the Whispers, replaced Nate Pitts. Dave replaced Don Veca on drums. Don is part of Electronic Arts (EA) music production team. Susan or "Sue" was a classically trained vocalist.  Everyone who played with X10 were great people and great musicians.
After playing together for five years, we were ready to try to make it big. We had a showcase lined up in Los Angeles, hoping to get picked up by a record label. But once again, the rough luck of the music industry hit: X10-sive Research broke up right before we headed to LA.
I've lost touch with most of the band members but I have great memories. And I never stopped playing, writing songs, even trying again later to get a record deal.
When Dana is not playing gigs, he is the Sales Development Manager at Phoenix Technical Publications. Phoenix Tech Pubs has provided complete technical writing and documentation services in the San Francisco Bay Area for over 25 years.