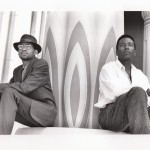 I had a chance to work with a very good song writer, bass player, lyricist, and producer named Kerry Thomas. This left handed musician had great feel for grooves and melody.
We met in the 80's while I was attending San Jose State. He was good friends with Gavin Green, who played guitar in one of my college bands. But it was years later when we began our song writing partnership. Before we did any writing together, I remember one of our first endeavors was recording one of Kerry's songs at Felton Pilate's studio in Vallejo (member of Con Funk Shun).  We were up all night until the break of dawn. The studio is the one place where time is not a factor for me. I can go for hours, maybe days, without a break.  The next day, I found out that Kerry's drive home to Merced was near tragic. He was tired from being up all night and was involved in a car accident that totaled his car.
Kerri and I lost contact for a little while but after X10sive-Research broke up, we started hanging out again and started writing as a team. We called ourselves 'Til 2.  This collaboration was around 1991 to 92 or somewhere around that time.
We had some great dance tunes like "Freeze Up," "Dig Ya Baby," "One Lover," and thought provoking material such as "Count Your Blessings," but the song I think would have put us over the top was the ballad "Stormy Melody." We wrote most of the songs together, bouncing ideas off each other then recording that idea. The process was pretty smooth. Kerry and I would share lead vocals on most of our creations. It was our formula. I would usually take the first verse and he would take the second. There were only a few tracks that featured one singer. We managed to create some magic with just a 4 track Tascam recorder and Shure microphones in his living room.  Kerry had a unique approach to drum machine programming. He utilized many different percussion, shakers, bells and sounds that gave the drums  a catchy, hard to resist groove. It was his answer to "New Jack Swing."
Writing this reminds me of a weird thing that happened to me one day going to his house in Oakland.  My car was down so I took BART to 19th Street and then began the 20 minute walk to his house. While walking down one particular street, 2 reddish brown, full grown Doberman Pinschers approached me. They seemed bigger than the average sized Doberman. They had clipped ears and tails with large spiked collars. At first I thought I was lunch but as they approached me they seemed calm, and just trotted along on either side of me. It took a second for me to relax, trying not to be scared because you know what has been said, "animals can sense fear and may attack." So, as I walked down one street and turned right down another, these Dobies kept up with me, going up to various plants, trees or fire hydrants and doing what dogs do, sniffing and marking territory then returning back to either side of me.  I did not talk to them or even make eye contact. Eventually we were blocks away from where we first "met." I could hear the loud but low boom of a slow moving car's stereo and then this car full of hard looking guys began to pull closer to me. The next thing I knew, the two dogs were strutting on either side of me as if I had trained them to be my protection. The car sped away and I sensed that I was just saved by the dogs from a robbery. That was eerie and unforgettable.
We recorded "Count Your Blessings" that day. I was inspired. I told Kerry what happened, he laughed and then we wrote the song. The subject of the song was not about my event but it set the mood. It was unfortunate that we never put a band together to perform our originals but I wish we had given it a chance. Unfortunately, after more than a year of going up to Oakland almost every Saturday, we dissolved 'Til 2.  Such is the band life. Some people work for many years with the same group of musicians while others seemed to go through many changes through out their experiences. I guess I'm the type that will experience many changes.
When Dana is not playing gigs, he is the Sales Development Manager at Phoenix Technical Publications. Phoenix Tech Pubs has provided complete technical writing and documentation services in the San Francisco Bay Area for over 25 years.