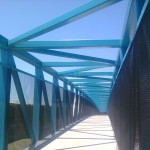 I'm very excited that the Bay Area trails are starting to create pathways to fun places all around the bay, without having to leave protected bike trails. In July I rode from my house in the Willow Glen neighborhood of San Jose to have lunch in Mountain View, taking the Guadalupe River Trail to the San Francisco Bay Trail to Stevens Creek Trail. I only had to use surface streets three times, all for very short distances with little traffic.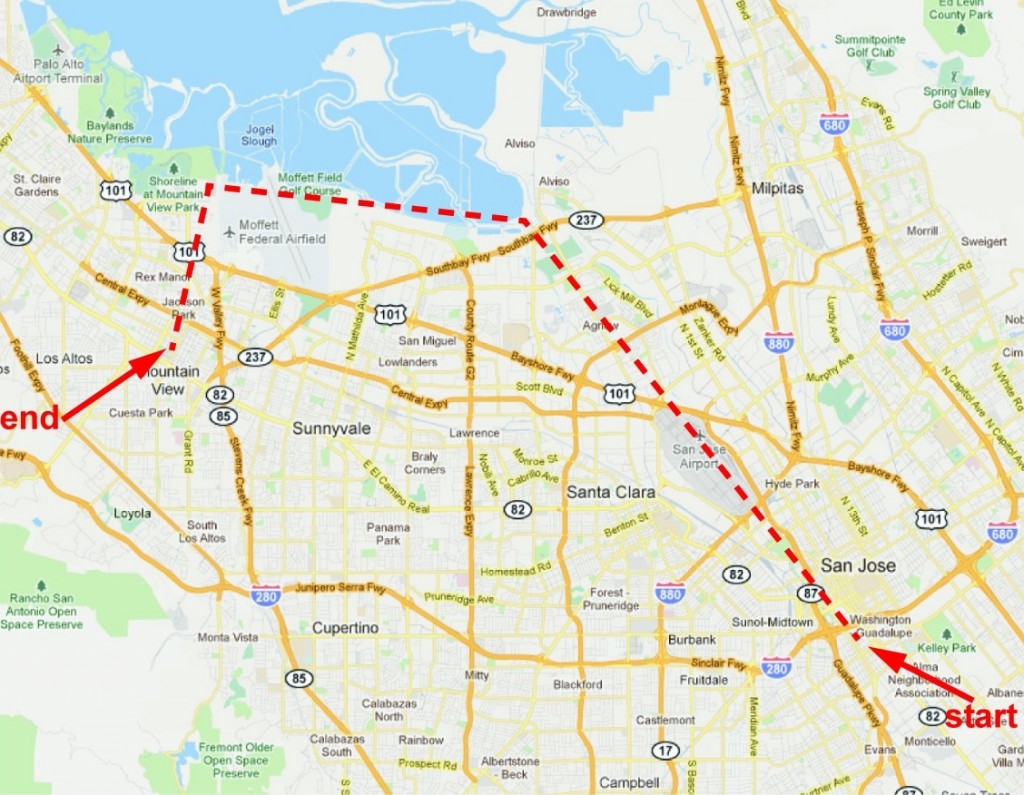 Unfortunately, some of the trails are confusing and not always well marked. I found the best place to scope out the route was on Google Maps: zoom in close enough and the trails are very easy to follow. My phone is only medium-intelligent so I printed out some of the more confusing areas; I don't know if your smart phone will have internet access out on the trail.
Some parts of the trails are paved, some are dirt, some are heavy gravel. You definitely want fairly rugged tires on your bike. The trails are shaded near downtown San Jose and Mountain View; the rest has very little shade.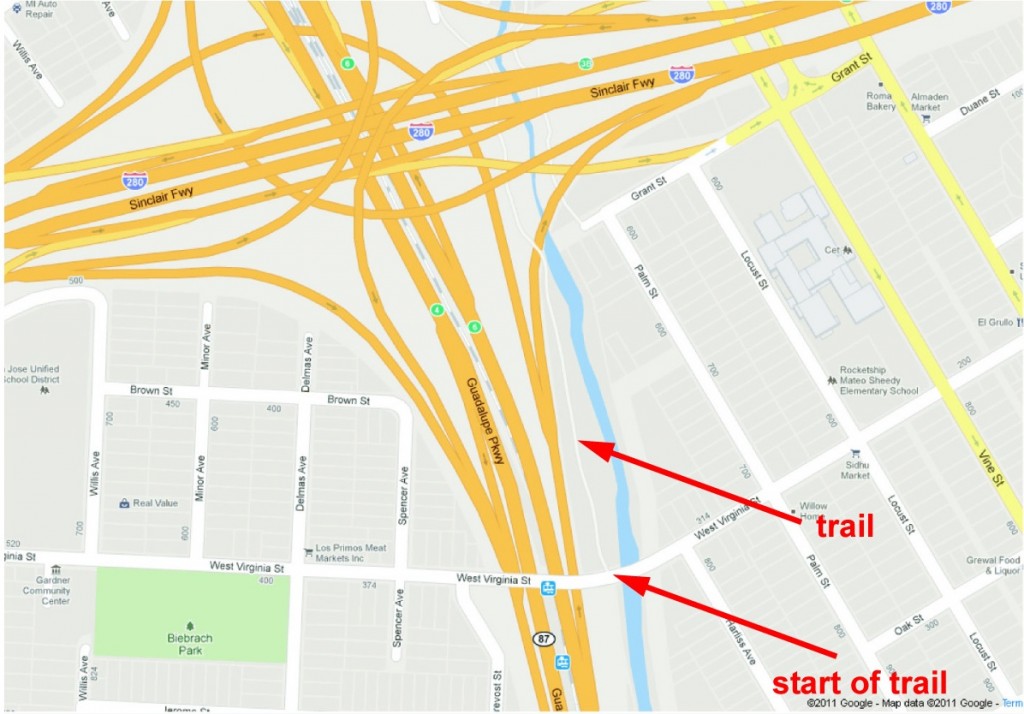 The Guadalupe River Trail begins just north of Willow Glen, just south of downtown San Jose. It is accessed from Virginia St. at the Hwy. 87 overpass. The trail follows the Guadalupe River north through downtown San Jose, past the airport, through Silicon Valley industrial areas, and through residential areas ranging from high-end apartments to mobile home parks, eventually reaching the old port town of Alviso.
The Guadalupe River Trail has some very pretty stretches, and some very gritty stretches. It is truly an urban trail. Unfortunately, it is extremely poorly marked. There are lots of branches that parallel the main trail: some loop back, some exit the trail. Almost none are marked so I ended up having to backtrack a few times. The trail often requires going up to street level, crossing the river, then returning down to the trail. However, I crossed sometimes when I didn't have to and sometimes had to backtrack to a crossing I missed.
There is a short detour on surface streets just north of downtown San Jose. It is well marked. The streets are quiet with very little traffic.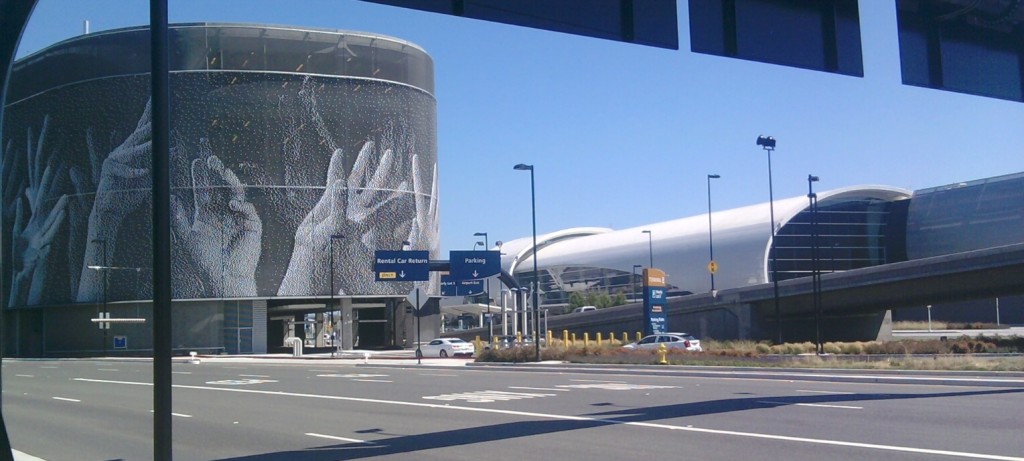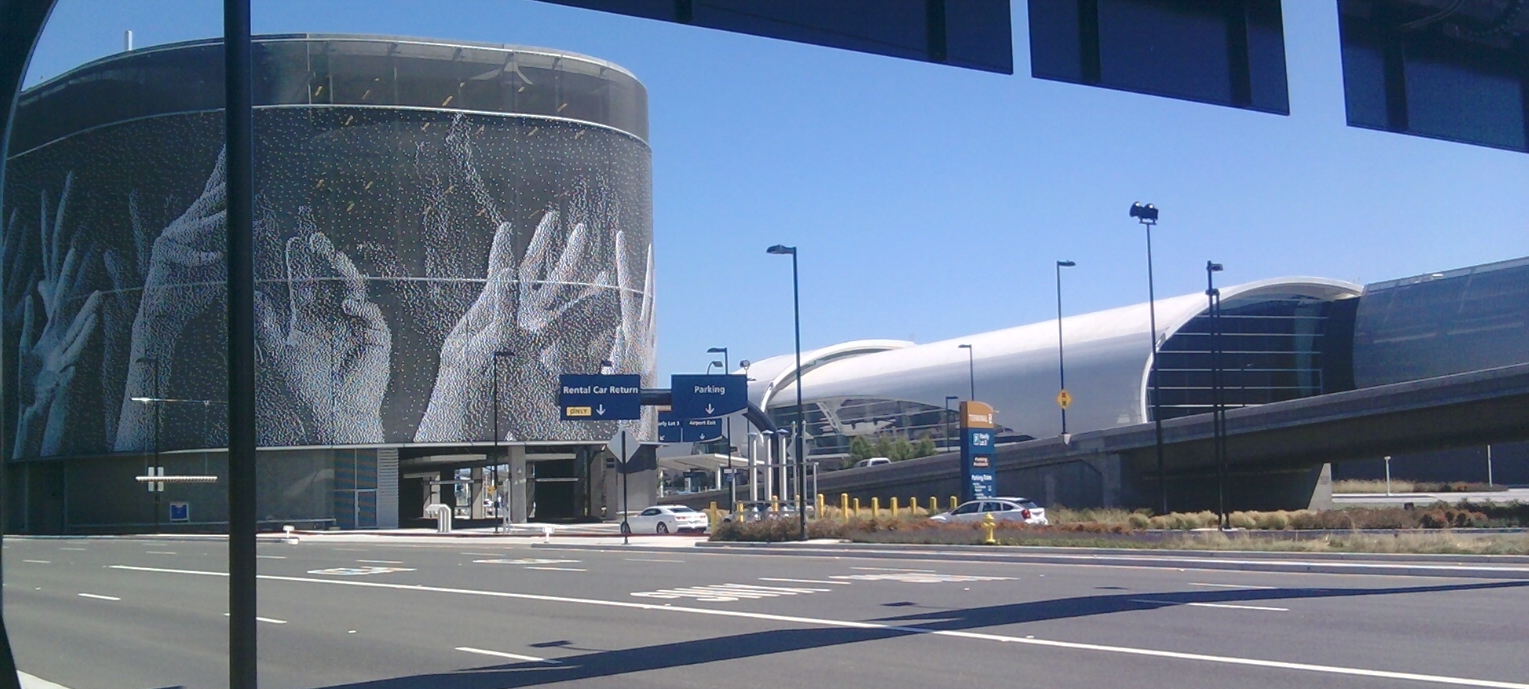 Just past the "waving hands" parking structure at the airport, the trail on the west side of the river seems to completely end. This is an unmarked crossover: the trail continues on the other side of the river.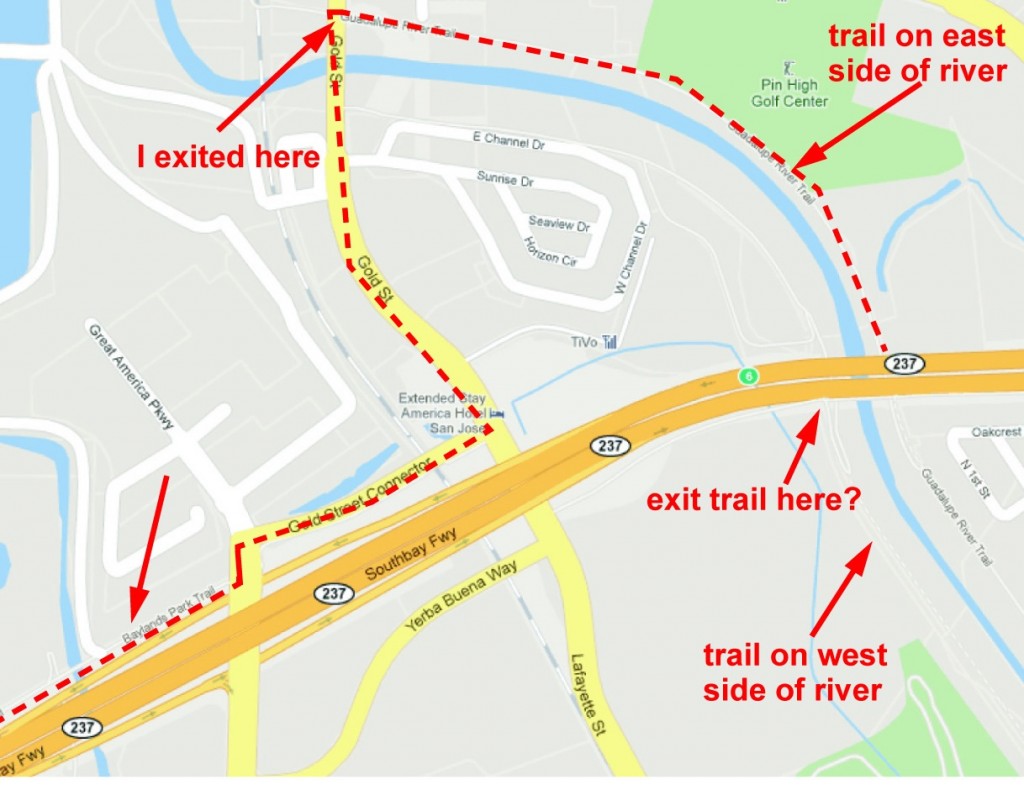 The Guadalupe Trail connects via surface streets with the Bay Trail before entering Alviso. I think it is possible to exit the west side of the trail just before the Highway 237 underpass. On Google Maps it looks like you can take a spur trail to the left,  turn right briefly on Lafayette St., then left on Gold St. Connector. I exited the east side of the trail when it intersected Gold St. a little bit further along. I turned left on Gold St., then right on Gold St. Connector.   Gold St. Connector runs straight into the Bay Trail (it is called the Baylands Trail here). This is less than a half mile of surface streets with very little traffic.
The Bay Trail follows the San Francisco Bay shoreline, with plans to eventually circumnavigate the entire bay. There are some huge gaps but the trail is mostly continuous on the Peninsula side from the southernmost point in Alviso up to Brisbane. (Which means it looks like you could even bike to SFO.) There was a steady breeze from the Bay, mostly a headwind as I biked north.
My path went past Sunnyvale Baylands Park, the Twin Creeks Sports Complex, Moffett Field, and Shoreline Park. I saw lots of interesting birds and waterfowl. The parks I passed were attractive AND had lots of bathrooms. But the view along this part of the bay is not that great.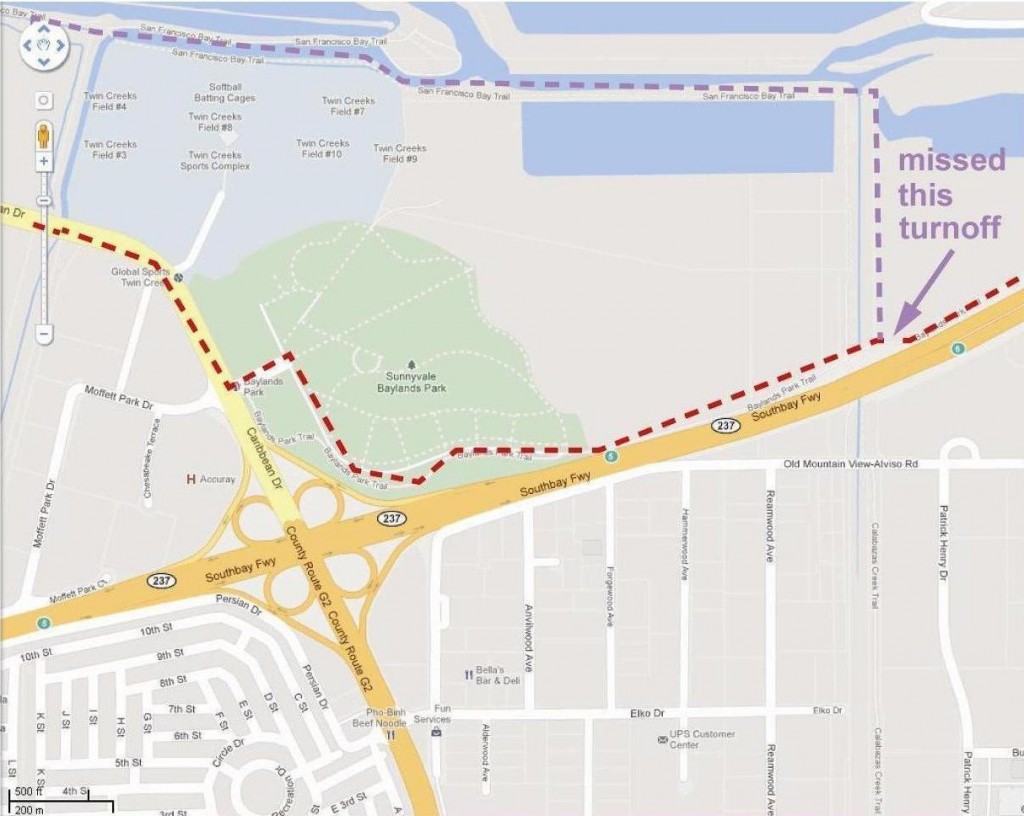 Before reaching Baylands Park, the Bay Trail takes a sharp right out towards the water; the main trail continues straight but becomes the Baylands Trail. I completely missed this in both directions so I don't know if it is marked or not.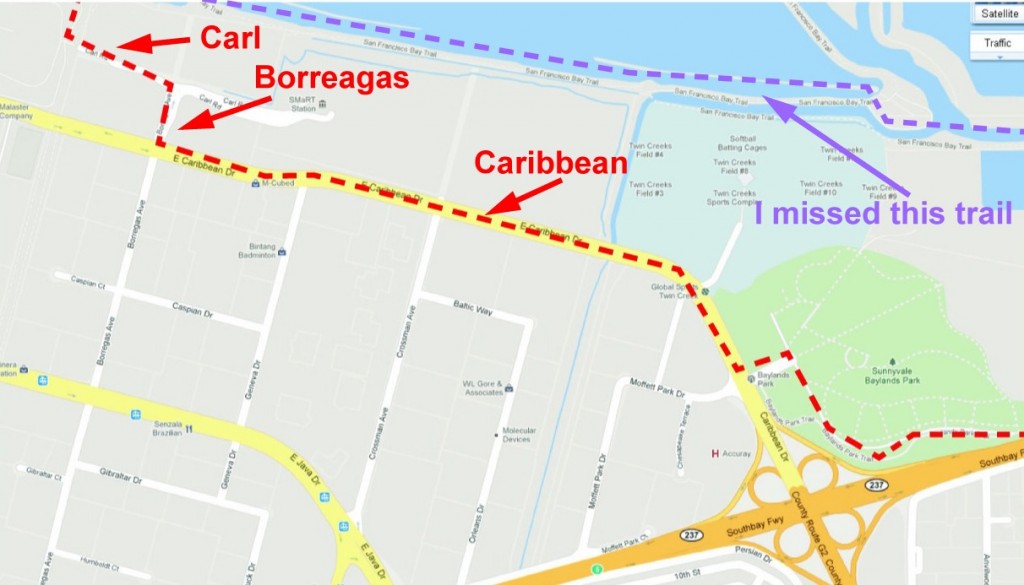 I biked into Baylands Park, where the trail dead-ended. I then exited at the main park entrance, turned right on Caribbean, right onto Borreagas about half a mile away, then left onto Carl Rd. There is an entrance to the Bay Trail at the end of Carl Rd. Caribbean was a busy street but there was a bike path and a sidewalk.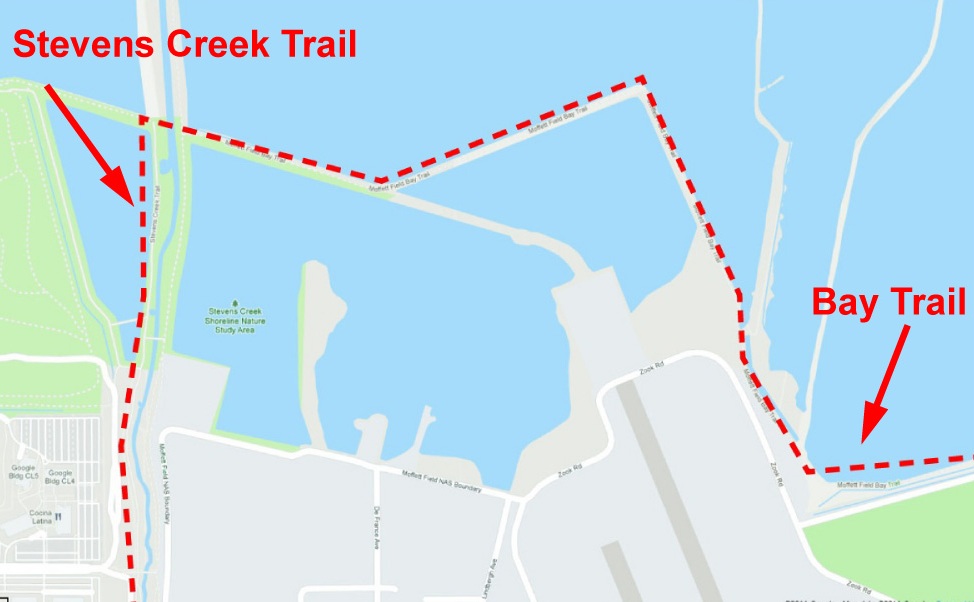 Back on the trail, I passed Moffett Field, then reached the south end of the string of parkland that includes Shoreline Park , the Charleston Slough, Palo Alto Baylands Park, all great bike destinations in themselves. But this is where the Bay Trail meets Stevens Creek Trail. Taking a left onto Stevens Creek Trail, I exited the isolation of the bay to a busy but very pretty urban trail. There is a lot of shade along the Stevens Creek Trail and lovely pedestrian bridges exiting to neighborhood parks.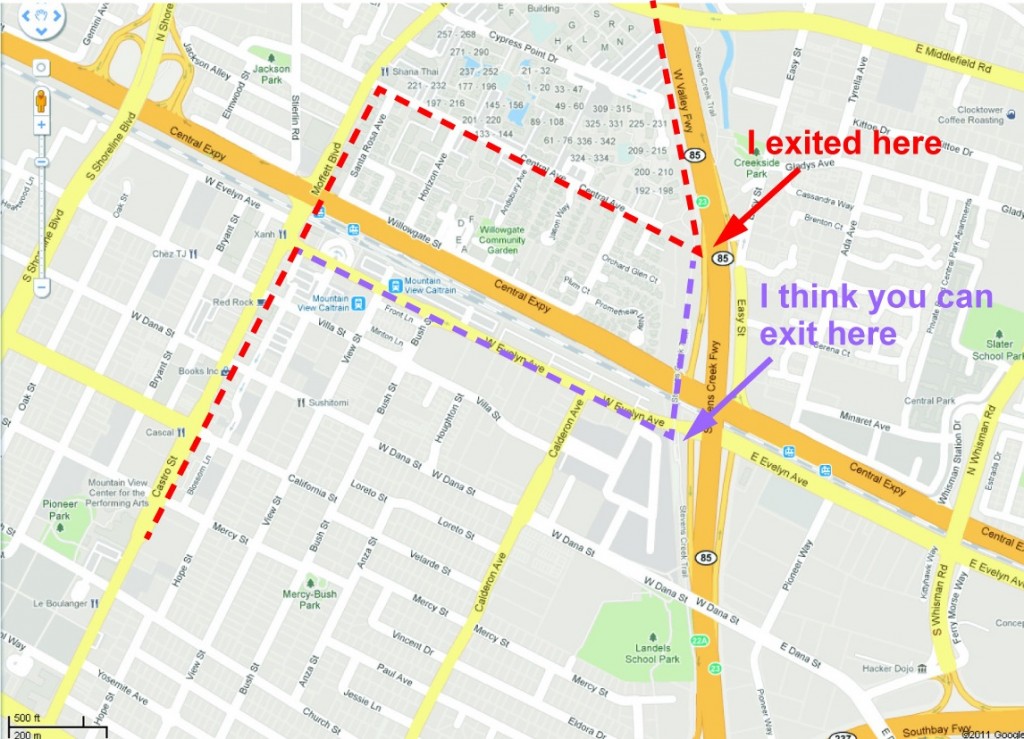 I left the trail at Central Ave. I continued straight on Central Ave., turned left on Moffett Ave, which turns into Castro St. after Central Expressway. I think I could have stayed on the trail a bit further and exited closer to downtown Mountain View. Central Ave. had no traffic and Moffett Ave has a bike lane.
Castro St. in Mountain View is basically a restaurant row. There must be 50+ restaurants along this fairly short street. Most restaurants have sidewalk seating with plenty of shade, so it is a great place to relax and people watch. One of my favorite restaurants is Cascal. I have been told the dim sum is excellent at Fu Lam Mum. There are coffee shops and gelato too.
Mountain View is also a great place to browse bookstores. Books Inc is a locally owned chain of bookstores. Right next to it is a huge used selection at BookBuyers. Further down Castro St. is the EastWest bookstore, carrying spiritual books and hosting many events.
I did some book browsing but decided it was too hot for a big lunch. I had packed a pb&j sandwich just in case so I sat on a street bench to eat and people-watch. I did get some gelato, though 🙂
I followed the same route back in reverse. As I said, I missed the turn for the Bay Trail around Twin Creeks and Sunnyvale Baylands parks so I took Caribbean again.
I estimated the route to be about 20 miles in each direction. It took me 5 hours of biking to complete the trip. I had expected to finish much quicker. I usually bike on the paved Los Gatos Creek Trail so I suspect the dirt and gravel slowed me down a lot. It was also a very hot day, which tired me out.
On the Bay Trail just outside of Alviso I passed the turnoff for the San Tomas Aquino Creek Trail. Checking it on Google Maps I see that it goes to Great America and, in a few years, will take me to some games at the new 49ers stadium in Santa Clara!
When Andrea is not biking, she is a Senior Technical Writer at Phoenix Technical Publications. Phoenix Tech Pubs has provided complete technical writing and documentation services in the San Francisco Bay Area for over 25 years.