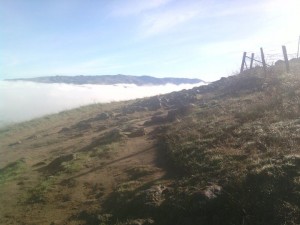 Living in the South Bay, I have heard many people talk about "doing" Mission Peak. When I heard one conversation talking about PR's to the top, I knew I had to take the challenge.
Once again I was amazed at how quickly we lucky Silicon Valley dwellers are able to get away from civilization and into the wilderness: it took about twenty minutes to get from my Willow Glen (San Jose) neighborhood to the Mission Peak trailhead off 280 in Fremont. Granted, the trails to Mission Peak are more like roads, but from there you can escape to Sunol Wilderness Regional Park, Ohlone Regional Wilderness Park, Lake Del Valle Recreation Area, and Ed Levin County Park for relatively untamed nature.
Like so many popular Bay Area parks, the parking lot at Mission Peak is so small it is a joke. There is lots of parking along Stanford Ave, just below the main parking lot, although that was pretty full too.
So let me tell you about the hike: Go up. Three miles later, come back down.
Yes, it is that relentless. 2300 feet up over 3 miles. What average incline does that work out to? A lot. All I know is that I had to look for less steep stretches to stop and catch my breath.
The kicker is that this trail is packed with people. OLD people. Parents with little kids. Way out of shape people. Some of them were even hiking without the proper technical outdoor clothing! In fact, I'm pretty sure I heard one elderly couple referring to it as taking a "walk"!
Hey, that's a good thing, don't get me wrong. Lots of people getting exercise. And I love the people watching. But this trail kicked my BUTT. It was hard for me to be impressed with myself when I was surrounded by amateurs.
Okay, most of the hikers stayed on the lower half of the trail. And I give serious props to everyone who was out there. And (said modestly), I DID pass almost everyone.
The hike is a great workout. I felt like I used every muscle in my body plus every bit of cardio strength too. The pitch is so steep I found it easier to jog back down, which was a fun reward at the end.
It is also a pretty hike. It follows through wide open, rolling fields. One day was almost perfectly clear. I could see all of the Santa Clara Valley, and I think I could even see San Francisco. At the top you can see into the peaks and valleys of the East Bay hills. Very pretty and serene. The next trip was socked in with fog. At the very peak I was above the fog level. That bank of fog covers the whole Santa Clara Valley with the Santa Cruz Mountain peaks just visible beyond.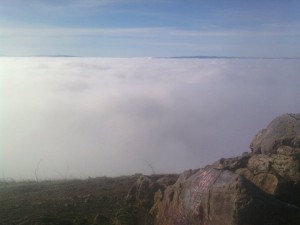 After I finished doing Mission Peak once I couldn't wait to go back and do it again. It is like taking a gym class with a super hardcore teacher – it hurts but it hurts so good! I didn't time myself but I did try to take fewer rest stops. So far my PR is three
When Andrea is not hiking, she is a Senior Technical Writer at Phoenix Technical Publications. Phoenix Tech Pubs has provided complete technical writing and documentation services in the San Francisco Bay Area for over 25 years.