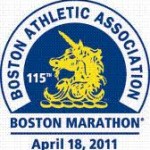 I am now 9 weeks into my training for this year's Boston Marathon. It's the first of the 4 events I've signed up for this year. But more on that later. I just wanted to make this a short blog of one of the secret ingredients of my training. It's my homemade granola. It's a variation on the original recipe I was given when I was living in New Zealand in 1978. (Yes, that's a lot of granola behind me.) I eat it nearly every morning during training and before an event. It's good fuel and easy to digest. I can make a big batch that lasts me about 3 weeks. This saves me a lot of time, and I really like it. It seems to be popular, so I thought I'd share the recipe. Here it is:
Granola Recipe
Fill a 1″ deep cookie sheet with 10 cups of Old Fashioned Oats. (Don't use Quik Oats; they get mushy.) Bake at 275-degrees for 20 minutes.
Mix in 1 cup honey (or maple syrup) until the warmed oats are moist.  Bake at 275-degrees for 20 minutes.
Take the toasted oats out and put them in a paper bag. Stir up the oats to allow for even cooking. Put them back on the tray and bake at 275-degrees for 20 minutes.
Remove the toasted oats. Mix in 1 cup slivered/sliced almonds, 1 cup of cranberries, and 1 cup of coconut. Add raisins, dried apples, or anything else you want.
Put in sealed container or jar.
Done! So easy, even I can do it and now you have enough granola to last a couple of weeks.
I use about a cup of granola for a serving when I am in training (less if I am not). Each cup has about 450 calories, with 10 grams of protein and 12 grams of fiber.
When Jim is not training or participating in endurance events, he is the owner of Phoenix Technical Publications. Phoenix Tech Pubs has provided complete technical writing and documentation services in Fremont and the San Francisco Bay Area for over 25 years.