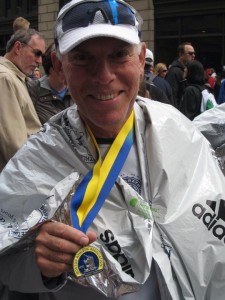 Prelude to the Race
This was a race I planned long in advance, because I would be entering a new age group. I have great ambitions for this year, not just for the Boston Marathon, but also for the Death Ride, Ironman Canada, and the Alcatraz Invitational Swim. The Boston Marathon required a qualifying time, which I took care of by running a 3:40:04 marathon at Napa in March 2010, where I came in 5th of 79 in my age group (read my blog about it). At the time, I was excited with the results, but that quickly passed when I recalled how humbling it is to run Boston, where the winner in my age group probably would be done with breakfast by the time I finished.
So when the Boston Marathon registration opened in September 2010, I was online the moment it opened. I'm not usually so organized, but this race was important to me. It's a good thing too, because registration sold out 8 hours after opening. This has never before occurred; typically I could register weeks, even months after opening registration. The race sold out so fast that the race organizers have lowered the qualifying times for 2012.
That should have taught me to be more aggressive when planning ahead. I did make our (cancelleable) hotel reservations six months in advance. But I didn't book plane tickets until the week before leaving for Boston. Was I secretly trying not to "jinx" my plans? In the end there was no jinx, but there was a very long 12-hour, 3-stop flight into Providence RI, followed the next day by a two hour drive to Boston.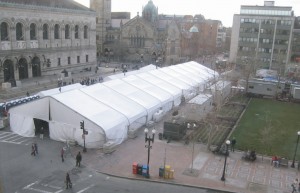 We always stay at the Fairmont Copley Plaza Hotel in Boston. Not only is it a classic old, luxurious hotel, it is also "race headquarters." The race organizers, the Boston Athletic Association, and the media make it their center of operations. And the professional runners stay there. It makes for a very exciting atmosphere.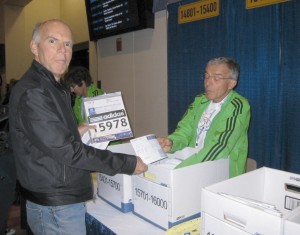 After checking into the hotel, we went off to the Expo to pick up my race packet. Because of the large number of runners, the race starts in three waves. My white bib color indicates I start with Wave 2. As I said at the start of this blog, this race is humbling. The expo is the biggest sports expo I've ever been to, including the NYC Marathon. There's plenty of free swag: nutrition bars, gels, drinks, keychains, sunblocks, posters, pain relief creams and patches, etc, etc.
Saturday night we ate in the North End of Boston, where we've always been able to get a good pasta meal. We've never been disappointed with the food in this part of town. We chose a new place, Bella Vista, which was very good. Julie had seafood linguini, while it was pasta bolognese for me.
The next day, Sunday, was the same weather: cold and overcast. Perfect conditions for running. We started the morning with a walk/ run along the Charles River.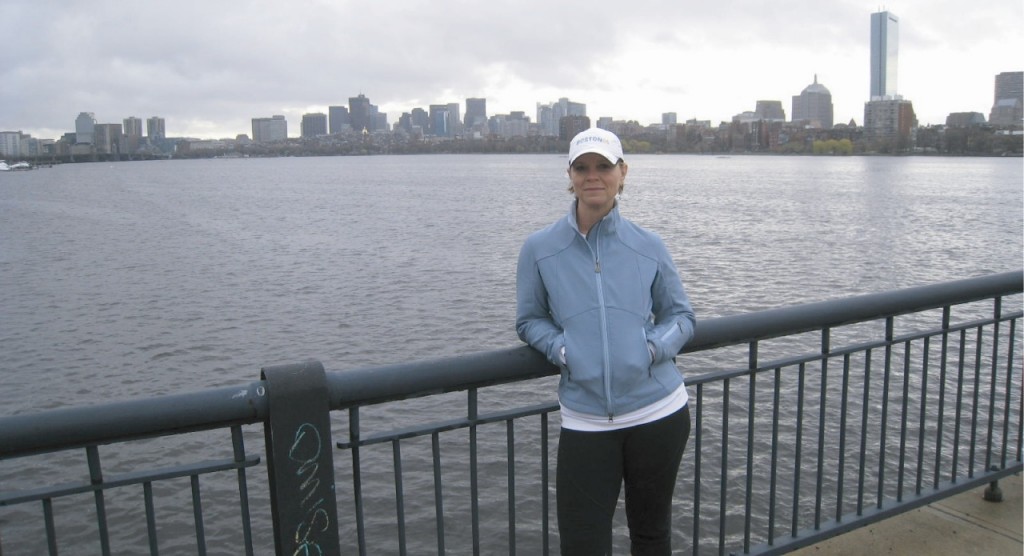 Sunday night it was back to North Boston for my traditional pre-race meal of spaghetti alla puttanesca at our favorite restaurant, Trattoria Il Panino. As always, it was excellent: carbs, protein, and salt, a great combination before a race.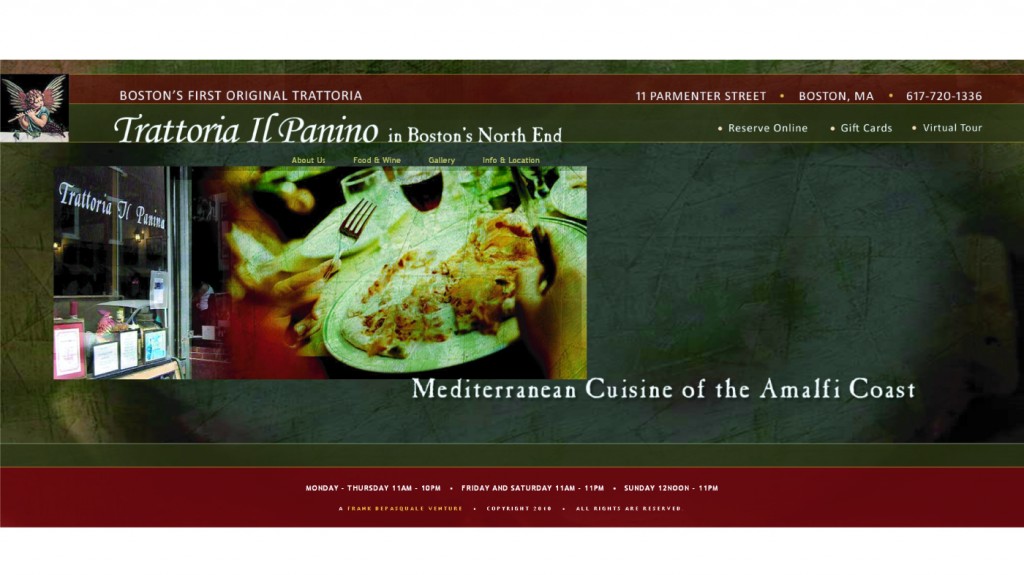 Race day, Monday
Woke up to a great race day. It was still cold and windy, but thankfully no rain. I knew the running would keep me warm, but it's never fun to run with your shoes full of water. I went to the hotel restaurant for breakfast of  hot oatmeal, banana, milk, walnuts. It might sound like a lot, but it was perfect for the race. Then it was back up to the room to get ready. I always take a variety of race clothes, which means getting dressed takes time. I need to consider keeping warm for the 4 hours prior to the race start, then how I will feel 15 – 20 miles into the race; and of course how I want to look for the race photos taken along the route (which I never buy). Everything has to be just right, but ultimately it never matters. You just run.
I was in plenty of time to catch the bus, but had a long cold wait before boarding. There are over 25,000 people in the race, and most of us are bused to the start. I don't know how they do it. It must take between 300 and 400 buses. The lines to board them are about ¼ mile long. But everyone is patient. The drive out takes about an hour, which gave me a chance to nap during the ride.
The bus let us out at the High School in Hopkinton. As I expected, the grass at the high school was damp from the rain. But I was prepared. I had running shorts & two pair pants, singlet, two long sleeve shirts, jacket, hooded sweatshirt. I took the opportunity to hydrate, drinking a bottle with Nuun electrolytes. I didn't want to strip down to my racing outfit too soon, because it was still cold and that saps your energy. I waited a bit too long to change, and as a result I missed my start. It doesn't matter, because your race time starts when you cross the starting mat. But not being in my corral on time did add to the anxiety.
From the corral there's a slight uphill run of about 75 yards to the start mat. Then there's a good 1/2 mile downhill which opens up the field of runners.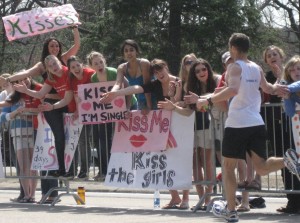 The first 20 miles are rolling hills through the suburbs. I stopped at each aid station, alternating Gatorade and water. The entire route is lined with people cheering the runners. Among the more famous highlights is the half way point in Wellesley, where the Wellesley College girls are always very enthusiastic. It's known as the Scream Tunnel but I call it the Tunnel of Love.  I made it a point to stop and have half a Powerbar and refill my Nuun electrolytes bottle.
A few miles down the road is the most difficult part of the course, about 5 miles of mostly uphill work culminating in Heartbreak Hill. The hills aren't especially steep, but they aren't easy because they are late in the race. The day before the race, I'd read that Robert de Castella, a marathon runner from the mid-1980s, recommended fast downhills, controlled uphills. I tried to follow this as best I could, but at this point I was very conscious of how my legs felt on the downhill. I didn't want to risk a torn hamstring.
During this latter part of the race, I started on my Gu roctane, which has extra caffeine. So I felt good during the 5 mile uphill stretch between Newton and Boston College. Boston College is another highlight, with a very large and enthusiastic crowd of college students.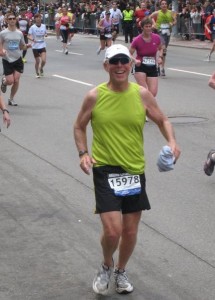 After that, it's mostly downhill. And for the first time, I felt great…much better than my three previous runs. The conditions were ideal, with the temperature near 60-degrees, a steady wind at my back, and cloud cover for the last 6 miles. I felt strong and pushed my pace all the way to the finish. My 5K split times actually dropped after the 25K mark.
I had plenty of energy running the final stretch down Boyleston St., so that I really got to enjoy the finish. I'd hoped to do a 3:40 run. I guess I have to accept that it's a more difficult course than appears on the map. It must be the rolling hills. I finished in 3:51:03. And by the way, the winner in my age group ran it in 2:48:38, which is a minute per mile pace of 6:26. Phenomenal! I can't maintain that pace for a half mile.
My nutrition for the race consisted of  5 Gu packets (3 Rocktane orange for the caffeine and 2 Expresso flavor which has less caffein); half a Powerbar; 1 Nuun electrolyte tablet in 12oz water @ start; and 1 Nuun at mile 13.1. They were serving Gatorade along the course, which I could drink for the first half. But eventually it takes on a gross syrupy taste, and I can't drink it.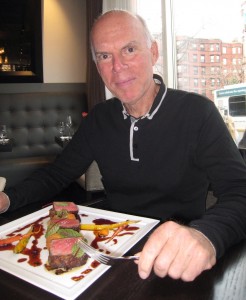 After all the sweet food during the race, I really need a steak for dinner. Next to the post-race shower, the post-race meal is what I most look forward to. We ate at Deuxave, a nice place within walking distance of the hotel. I had a steak and it was just what I needed, although Julie, as a vegetarian, wasn't quite as impressed. And of course I slept well that night.
The official report on the race is at www.baa.org. The B.A.A. was founded in 1887, by the way, and ran the first Boston Marathon in 1897 with 18 participants.
So now it's a week or two of rest before training begins for the next event. I haven't ridden my bike since last October, and the Death Ride in July will be very difficult. It's 129 miles with over 15,000 feet of climbing. I've got a lot of work to do in the next 10 weeks. But right now, I'm going to take a nap.
When Jim is not training or participating in endurance events, he is the owner of Phoenix Technical Publications. Phoenix Tech Pubs has provided complete technical writing and documentation services in Palo Alto and the San Francisco Bay Area for over 25 years.