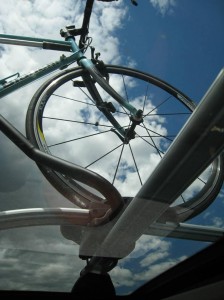 The Coeur d'Alene Ironman Triathlon was my big event for 2010. It required the most training and the most support from friends and family. Again, thank you Julie for the encouragement! And thank you Mom, Dad, Chris, Maria, Doug, P.H., George, Malinda, Andrea, and all my friends at San Jose Swim and Racquet Club. These races would be a lot tougher and a lot less fun without you.
So here's my race report. We left San Jose on Wednesday, June 23, and made it a three day trip to Coeur d'Alene, stopping in Ashland and The Dalles, Oregon. Driving 6 hours a day seemed reasonable if I didn't want to arrive exhausted.
We arrived in Coeur d'Alene late Friday afternoon, two days before the race. We had reservations at "race central," which was the Coeur d'Alene Resort, located next to the swim start and transition areas. It was a great place to stay. As we checked in, I remember thinking—and Julie saying—what amazing shape everyone was in. Great bodies, great bikes, beautiful weather… what a great day! Coeur d'Alene is a small town and for a few days it's all about the race.
Julie asked if I wanted to immediately go pick up my race packet. I was tired and hungry, and I'd done enough races to confidently say we had time for dinner and I could pick up the race packet next day. Big mistake! I'm basically a "running" guy where things are simple: Don't think too much; just put on your track shoes and go. The 26 pages of race information I'd received a month earlier? It made more sense to read it when I arrived and could see the layout and talk to people. So after we'd had dinner and settled in, which was about 6 pm, I went to the web site to review the instructions. Right on the first page is the instruction to pick up race packets no later than 4 pm Friday or NO RACE!
Fortunately there was a mandatory meeting (which I'd planned to skip) starting in an hour. I raced over and found a race coordinator. She assured me it was no problem, telling me to show up at 9am the next morning and I could pick it up. Once life returned to me, I decided to stay for the meeting. I did learn that peeing or defecating on the course could get you DQ'd. No more screw-ups. I made a mental note to use the port-o-potties during the race. Reality had set in and I was focused.
Saturday, rested and ready, I picked up my race packet. That's when I really paid attention to the details of race preparation. Which is not simple and much of which could only be done on Saturday. There were five race bags: two for transitions (swim-to-bike and bike-to-run), two for the bike and run special needs mid-course fueling, and one for street clothes just before the swim. Then there was the bike racking (nothing can be on the ground around the bike), and a pre-race massage (which I highly recommend, along with the post-race massage).
When I stepped back and looked at the layout of the transition areas, I realized I'd never be able to pick out my transition bags from everyone else's. So it was off to the stationary store for bright, gaudy ribbons to decorate my bags. I thought the guy who attached balloons to his bags was a genius, until I it dawned on me they'd just get ripped off during the chaos of the race. And of course dozens of other little questions would pop up, and I'd run around looking for someone to clue me in. Only after I was comfortably set up and had a plan did we consider checking out the bike course. Julie strongly recommended we drive the entire course, and this time I listened. Good thing, because the 20 mile section at the furthest turn-around of the loop is all hills. I needed to mentally prepare for this.
Saturday passed quickly.
When Jim is not training or participating in endurance events, he is the owner of Phoenix Technical Publications. Phoenix Tech Pubs has provided complete technical writing and documentation services in Santa Clara and the San Francisco Bay Area for over 25 years.