The Swim
Sunday morning came soon enough. I woke up plenty during the night, which always happens before a race, but overall I got a good night's sleep. I was up by 4:30 am, had a good breakfast of my homemade granola (a recipe I picked up 30 years ago in New Zealand, consisting of oats, almonds, dried cranberries, coconut, and honey) and yogurt, banana and peanut butter, and milk. All the while I was doing last minute tweaking of my preparation, grabbing a few different food items to put in my special needs bags.
Then it was off to the race. At that point, and for the rest of the day, the calm sets in. There's not much I can do, other than have my brain tell my body to take it 140.6 miles on a swim, bike and run adventure with 2200 new-found friends… and make it quick. While I waited for the swim to start, I had a nice talk with a farmer from southern Idaho who was doing the event. Not someone I'd think of as interested in triathlons. He said he had 800 acres and the farming was mostly mechanized, so he'd gained a lot of weight. I didn't have time to ask him how he'd gotten interested in triathlons. But he did say he'd lost 40 lbs doing triathlons and wanted to lose 15 lbs more. This was his first Ironman. I would have liked to talk with him more, to find out how many of his friends did triathlons. I wondered what their reaction was to his Lycra biking shorts and 50 or 100 mile training rides, or his running shorts and singlet and his 10–20 mile runs. He certainly had my respect.
So, starting with the swim, here's how the day went. It was my first "mass start" swim with a starting gun. My Alcatraz swims had a starting mat, so I could wait for the crowd to clear before jumping in, leaving me plenty of room to swim. But I couldn't do this with a gun start. It's a mash-up, with everyone swimming to a single point 1000 yards out. For the next hour and a half (yes, I know I'm slow), all I saw was feet in front of me. And the simple mechanical act of swimming was interrupted frequently by people swimming over me, arms hitting me, feet kicking me, and even banging my head into a surfboard. (Something I hadn't anticipated: A volunteer planted his surfboard in the middle of the swimmers. I swam right into it.) At the buoy turn the swimming stopped because of the crowd, and all we could do was wait to drift around it like flotsam. I actually really enjoyed the swim, although it's my weakest event. The water temperature was 62 degrees, but it didn't seem that cold.
Exiting the water, I was met by volunteers who help with the wetsuits. Actually, I'd collectively call all volunteers "handlers," since at that point I'm just the racing dog that they are pushing along at maximum speed. All the volunteers were EXCELLENT!! They were well organized, efficient, encouraging… I'd give them a collective sweaty hug of thanks if I could. These first two told me to leave on my timing chip and wrist watch while they ripped off my wetsuit. In the meantime, another volunteer had run off to get my transition bag, which was an unexpected surprise. There was no need for my putting ribbons on the bags.
The Bike
Then it was off to the transition tent, which was about 20 feet away. The tent offered me and 200 other racers a bit of privacy as we put on our shoes and shirt. (I haven't quite figured out the need for the tent. We're fenced off from the crowd, and we're not running around naked. Maybe it's to calm the racers.) I took my shoes and shirt out of the bag, stuffed my wetsuit and cap into the bag, and gave it to the volunteer to return to the pile. They do the thinking, you do the racing: I put on my shoes and shirt and raced to the bike; they put away the bag. On the way, another volunteer waits, ready with sunscreen slathered on her arms. On a normal day this can be a tempting offer, but my focus was on the bike so I just had her put it on my arms and the back of my neck. I should have had her put it on my legs, but I was in a rush. The result was my quads were the only place I got sunburned.
Once on the bike I settled in for the long ride. Both the bike and the run course have their quirks. It's a two loop course. The first 7 miles are away from the longest part of the loop. I felt like I was racing to complete a 14 mile detour, twice. This section is mostly flat, but I found it more discouraging than the hills. But it's good for the spectators, because by the time you finish the bike course, you've gone through town 4 times. I'd trained for the hills, so I was ready for the climbs. The significant hills on the course are out at Hayden Lake. There are plenty of them, maybe a dozen of which are serious but not killer. Good thing, too, because it's up and down for over 20 miles, and when you hit them the second time you're at mile 75.
I thought I had a good ride, maintaining an average speed of 15 mph, and I don't recall being passed all that often. I even enjoyed the momentary feeling of being race leader as police escorts rode in front of me. But they were for Andy Potts who was about to fly by on his second lap. He was temporarily slowed by some overly cautious amateur taking the course turns too wide. (Hey, I couldn't see behind me.) I might have felt fine on the bike, but it was my weakest performance. I shouldn't have been so surprised. One thing I learned on my drive through the western states is that there are LOTS of people out there biking and there are lots of open road and bike trails. In other words, there is a lot of competition. I bike three days a week, and two of those are 1 hour spin classes. I need to ramp this up significantly.
The Run
As with T1, T2 was very efficient. As you ride in, your number is announced on the loud speaker. While one volunteer grabs your bike, another hands you your transition bag and points you to the tent. As I entered the transition area, I saw Julie. I felt fine and seeing her made me feel better. Then I saw the bike racks full of bikes. That was quite a shock. I realized I'd better pick up the pace.
Easier said than done. I thought my nutrition was under control. I had drunk 3–4 bottles of water, one of which had electrolytes. At about the half-way point on the bike I did have a loss of appetite. The thought of sweet food made me gag—no surprise since this occurred the last time I raced this distance. But I was able to finish the peanut butter and banana sandwich from my special needs bag, probably because I craved the salt in the peanut butter. I drank 1/2 bottle of Perpetum, which is a protein drink, but I skipped the bottle of Ensure, which has lots of vitamins. Next time I'll put a bottle of chicken broth in my special needs bags.
Whatever the reason, I had no gas in the tank when I started the run. I'm still trying to figure this out. I wasn't physically tired. But I had no energy. And the quirk in the run course is that it starts by sending you 0.6 miles away from the longest part of the loop. I started running but didn't get too far before I had to take a breather and walk. And this would be my routine for the next 4.5 hours: run-walk-run.
For the first time ever in a race I had my doubts about finishing. I need to explain this. The run course is along the lake and mostly flat, and there are long stretches of beautiful green grass separating the run path from the lake. And it was such a nice warm day. The run is my strongest event, and my training had gone well. I'd just done the Napa Marathon in early March and qualified for the Boston Marathon. But I kept looking at the grass, and it was so tempting to lay down and take a nap. I was so sleepy. It took all my will power to drive myself on. No amount of training can prepare me for this type of mental breakdown. But there was no way I was going to quit.
The crowds along the route were a great help, providing lots of encouragement with their yelling and cheering. They are very enthusiastic, they stay all day, and they're virtually everywhere along the course. Your name is printed on your BIB, so it feels like you have a thousand friends calling out your name. It also helped that once the sun got low on the horizon, the aid stations started serving chicken broth. It was perfect! That, along with the sun going down and the flat cola drinks, was the perfect tonic. The last 6–8 miles I felt rejuvenated and ran most of it at a good pace. Yes, I got one of those f**** glowsticks, but it only gave me one more reason to do another Ironman.
The Finish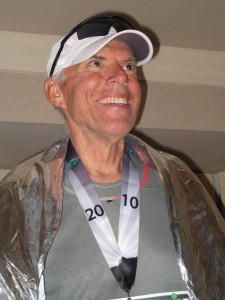 I didn't monitor wattage or heart rate, although I may do this in the future. I did keep track of my weight, both for safety reasons and because I was curious. I lost 11 pounds (6% of body weight) during the race. I weighed 176 the night before; I weighed 165 the morning after. By the end of the week I was back up to 175 lbs.
So next up is another Alcatraz swim in mid September. I'm really looking forward to doing it with my niece and younger brother and sister. There will also quite a few friends from the San Jose Swim and Racquet Club.
When Jim is not training or participating in endurance events, he is the owner of Phoenix Technical Publications. Phoenix Tech Pubs has provided complete technical writing and documentation services in Santa Clara and the San Francisco Bay Area for over 25 years.