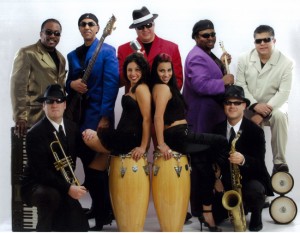 I love to see people dance while I'm performing on stage. And if they're cheering and calling for an encore, it's so gratifying that I almost feel famous. (This is what happens when a shy kid gets a lot of attention.) Cover bands often get that kind of reception, which makes them fun to play with. Over the last several years I have been a full time keyboardist for two popular cover bands that mainly play R&B and pop hits.
One group is The Night Shift Band. This is a big group that has up to nine people on stage with two to three lead singers up front, depending on the gig. We produce a "big" sound because of our size, including the horn section, and we play a wide range of music. Because of Night Shift's size and versatility we have played in a lot of big venues including the Golden State Warrior's half-time show many times over several seasons. Night Shift was started by Carlos Pena and Phil Wiltz. Carlos, the lead singer, knows a wide variety of material from different genres to perform.  Phil is his "partner in crime" on bass. The horn section is led by John Halblieb, an accomplished trumpet player.  Night Shift mainly plays pop and R&B music including songs like "Let's Groove Tonight" by Earth Wind & Fire and "Bad Girls" by Donna Summer. A couple of crowd favorites are "Get Down Tonight"  by K.C. and the Sunshine Band and "Take Your Time" by The S.O.S Band. Recently we have played at King of the County BBQ Challenge and Music Festival at the Martinez Marina. We have some public shows coming up at Barone's Restaurant August 25  in downtown Pleasanton from 5pm-10 and August 27 , and Goodguy's Car Show, at the Alameda County Fairgrounds.
The Diamond Chip Band is a group I joined years ago. They have this rawness, this energy that I can't put my finger on but it seems to move the people that have the pleasure of listening to us. Diamond Chip was started by Valerie Watley and Warren Burney.  Valerie is originally from Los Angeles and she's the lead singer with a pure, melodic voice.  Her stage name is "Baby Doll" I believe she was given this name because of her stature and her soft voice. Warren is from Buffalo, New York. He is the bass player for the group. He is the only bassist I know that doesn't play a five string bass but for old school R&B and pop, the five or six string bases are not needed. The group is made up of drums, bass, guitar, keyboards and 2 singers up front. Diamond Chip mainly plays funk and R&B music including songs like "Early in the Morning" by The Gap Band and "When I think of You" by Janet Jackson. A couple of songs that always get the crowd on its feet are "Brick House" by The Commodores and "Car Wash" by Rose Royce. Recently we are playing at Hs Lordship's at the Berkeley Marina every Saturday evening from 8:30pm to 11:30pm. There is no cover charge and free parking with a view of San Francisco Bay and the city.
Entertaining is fun. Being a part of something that allows people to forget about their troubles and have a good time is quite rewarding. I have been told that I'm a different person while on stage; more outgoing and confident. That may be true. I love the way it feels when the band is coming together with a tight sound and powerful energy that feels the room.  This summer both groups been busy with some private shows and some public. If you have the chance to drop by any of the public shows, feel free to say "hello"!
When Dana is not playing gigs, he is the Sales Development Manager at Phoenix Technical Publications. Phoenix Tech Pubs has provided complete technical writing and documentation services in the San Francisco Bay Area for over 25 years.